Bold lip shades might feel intimidating. We've all seen a bold lip disaster, whether on ourselves or someone we know, and we've probably thought that these types of lip shades are something not everyone can pull off.
That's partly true. However, although it might be a little challenging to find your bold lip shade, there are also a few tricks you need to know to wear them right.
Therefore, in this article, I will share six tips on how to wear a statement lip and not look like a hot mess. So if this is something you've always wanted to learn how to pull off, continue reading.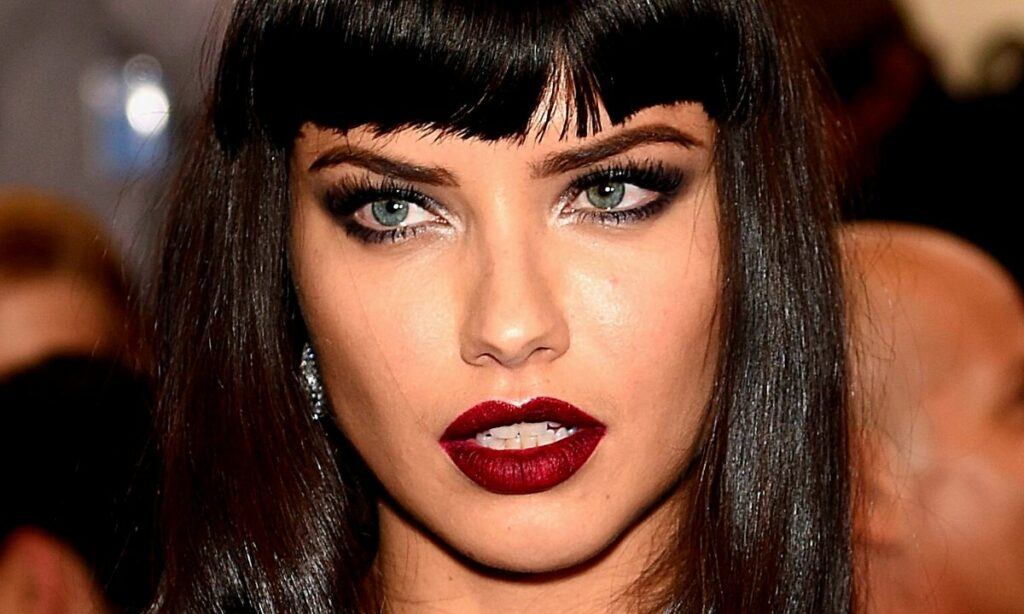 Choose Your Color and Texture Wisely
There are a few important steps that go into pulling off a bold lip. But before you prep and prime your pout, you need to consider that not everyone can wear the same thing and look good; therefore, you need to choose your color and texture wisely.
For example, if you have thin lips, opt for brighter colors that complement your skin tone, creamy texture, and a satin finish lipstick. Brighter colors will make your lips look bigger, unlike dark colors that make them look even thinner.
A creamy texture will keep your lips hydrated, while a satin finish will make them look smooth. On the other hand, avoid matte lipsticks as these will set in the lip lines and make thin lips look dry, coarse, and chapped.
If you have big full lips, you can opt for bolder, darker colors that complement your skin tone, but you can play around with both matte or a satin finish.
Big lips are very prominent; therefore, it's unlikely that a darker color will diminish them and make them look smaller. Besides that, bigger lips usually look smoother on their own and can better pull off a matte finish.
Prep and Prime Your Lips Properly
Properly prepped and primed pout will make the lipstick look better and wear longer. Therefore, instead of just applying lipstick and wondering why it doesn't look good and last long, you should consider taking better care of your lips.
Something that I like to do to prep my lips before applying lipstick is exfoliation. Exfoliating your lips can help eliminate some of the dry, flaking skin that builds up on the surface and will immediately restore some shine, softness, and smoothness.
To exfoliate, I like to use Burt's Bees Lip Treatment Scrub three to four times a week, usually in the evenings or sometimes even before applying my lipstick, if I feel like it.
The next, and even more important thing, is hydration, hydration, hydration!
To properly hydrate and soften my lips, I like to use Medik8 Mutiny Lip Balm whenever I'm not wearing lipstick around the house; however, I never go to bed without a thick layer of Vaseline Rosy Lips Lip Therapy all over my lips as this makes them so soft and smooth.
Trace Your Lips with Foundation or a Concealer
Once your lips are properly primed and prepped, to further enhance the lipstick's look and wear, you should trace your lips with a little bit of foundation or a concealer and let it dry on its own.
I learned this trick when I was working 12-15 hour shifts at a gym, and I almost never had the time to reapply my lipstick throughout the day.
I noticed that whenever I didn't remove the little bit of foundation left on my lips while getting ready in the morning and just applied lipstick over it – it tended to last longer and not crack as much, so I started doing it regularly, and now, I can't imagine applying lipstick on bare lips without having even a thin layer of foundation or a concealer on.
Line Your Lips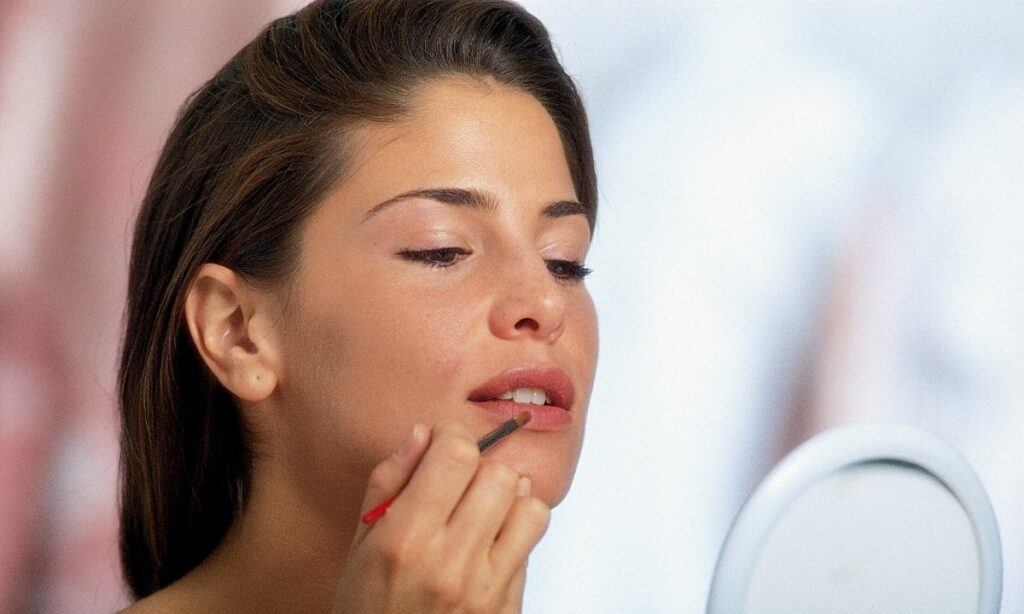 Lip liner is a product that apparently many people can live without, but I am definitely not one of them, and I recommend you look into pairing one with your lipstick, especially if you are trying to pull off a bold lip.
Lip liner can be an amazing addition to a bold lip because it allows you to create your ideal lip shape and even make your lips look a little bit bigger and fuller, which will truly make the shade pop and enhance the finished look.
Besides that, you don't even have to think about it as much as when buying lipstick because each shade usually comes in a lip liner form, too.
However, if your lipstick doesn't have a matching lip liner shade, you can go with something that looks similar to it, as you will likely cover it up with the lipstick anyways; you just need it to define the shape.
An easy way to line your lips perfectly is to keep the lip liner slightly dull and lightly go over the outer lines of the lips. This way, you will create soft lines and make your lips look naturally fuller without any weird sharp lines, especially those that look like cat ears on the cupid bow.
Lastly, avoid leaving the corners empty or colorless, especially when creating a bold or colorful pout. This will just make your lips seem much smaller than they are. Don't be afraid to take your liner and lipstick right to the corners of the lips for extra definition and a beautiful full lip.
Keep a Simple Look
When using bold statement lip colors like brick, plum, orange, or dark red – keep the skin soft, fresh, and glowing, and don't overdo the rest of the face with too much makeup.
Lightly groomed brows, a little bit of mascara, and a complimentary eyeshadow are enough. If you prefer giving your eyes some definition with a liquid liner, skip the eyeshadow and use only a little bit of powder to prevent the liner from transferring onto the eyelids.
Bold Cheeks
This might come as a surprise, but you will need to choose your blush shade depending on what color lipstick you are wearing, which is why blush is applied last when you are experimenting with bold lip shades.
Ideally, you should pick a blush shade in the same color family as your chosen lipstick and use a light hand at first. Once you start building up, your lipstick will show you how much blush you need.
For example, if you have fair or light skin and are wearing a deep burgundy lip shade, you might notice how your lipstick is making the rest of your face look washed out. This is why you need a similar shade blush. Therefore, once your lipstick is applied, lined, and you are happy with how it looks, you should then start applying blush with a light hand and stop at the point where your face starts getting some color back.
On the other hand, if you are wearing colors like peach or orange as a lip shade, know that these colors are a bit more difficult to combine with blushes which are typically rosy.
Therefore, it's best to opt for a bronzer rather than a blush, as this will help you define and warm up your face without adding an extra color on top of an already strong shade such as orange.
You can also elevate your look with accessories for a beautiful day look.
3 Best Bold Lipsticks to Try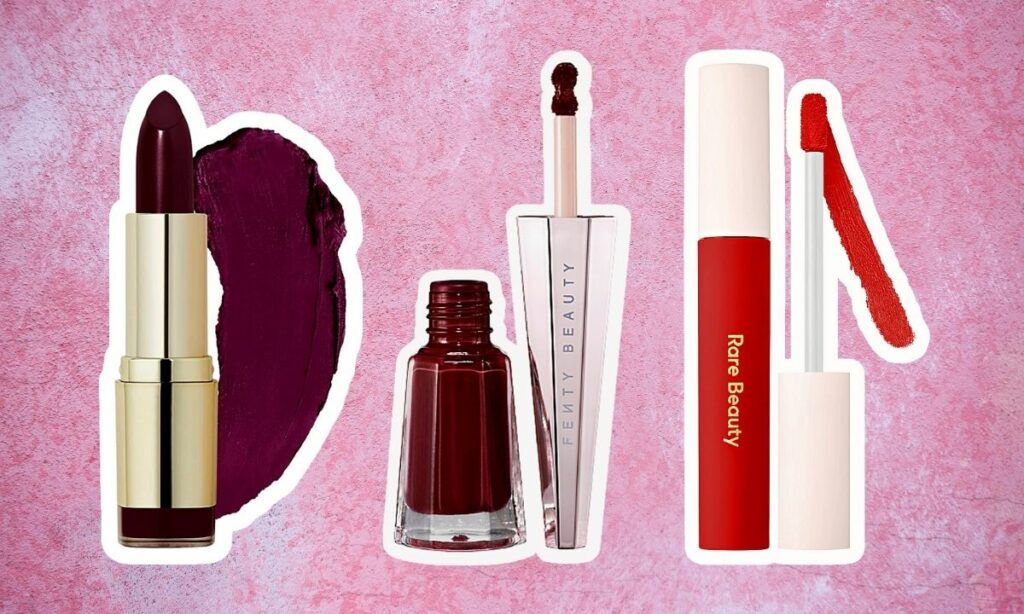 Milani – Color Statement Matte Lipstick in Matte Tease
Milani Color Statement Lipstick in the shade Matte Tease is a beautiful deep plum if you love a good winter berry to make you feel warm and cozy while making a statement.
Although it can be worn every day, the color is better suited for an evening event.
Rare Beauty – Lip Souffle Matte Cream Lipstick in Inspire
If you like to stick with the classics but also want to try something new, go with bright red lipstick—in a formula you have yet to try, like this whipped lip cream from Rare Beauty.
Lip Souffle Matte Cream Lipstick in the shade Inspire is a great option for a daily look that will give you a pop of color.
Fenty Beauty – Stunna Lip Paint Longwear in Underdawg
Fenty Beauty's Stunna Lip Paint in Underdawg is a deep and moody burgundy shade that's perfect for wintertime and any time of the day.
What I particularly like about this product is its lip-defining precision applicator that allows you to execute the sharpest application without staining anywhere else around the mouth.